Tennis UFABET
UFABET online tennis betting, the first online betting website that allows completely online betting services whether sports betting or Live casinos offered more than 10 kinds to put a bet; the minimum bet requires only 10 baht for single betting and mix parlay minimum 2 pairs.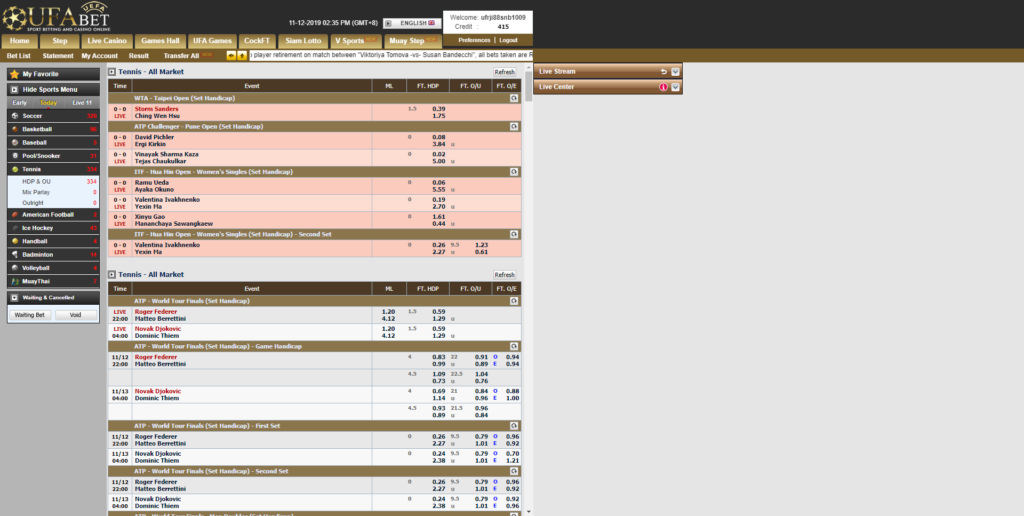 Correct Set Betting
In case there is changing or a situation happens besides the play, competition surface, racecourse, whether outdoor or indoor, all online betting is still working. If a player quits the game or disqualified during the competition, a contestant for the next round will be considered as a winner. If the game does not start all online betting is void and will pay back to you. If a contestant quits the competition for any reason, outright betting will be considered a loser.
Match Betting
Tennis competition starts to count after the first time an opponent's serve. If the game is complete, after cessation for any reason and the game is finished on the same day is considered a perfect game. According to betting, online betting, if the game is incomplete in the competition day is considered void immediately. If the game is incomplete by penalty point from the judge is considered a void game and will return the payment immediately. If a player quits the match during the game is considered incomplete and will return the payment. Later, bet on tie break is considered void.
HDP Betting
Betting kind depends on the number of contestant's games, each person wins each set match, for example, a contestant gets 3 HDP before the match starts but lost the game with score 7-6, 7-6, 7-6, this will be considered a winner in the HDP online betting. If a contestant is a winner from the match of the judge before the game is complate, all HDP betting of the game is considered void swiftly.
Winning-losing on the first set and win the match
If one of the players quits the match is considered void and will return the payment immediately. If the first set is complete then other parts of the match are judged from the winner in that match directly.